Going Green – The Rise of Sustainable & Smart Home Design
Over the past few years, we have incorporated energy and environmentally-friendly practices in our custom design-build projects. Today more than ever, people strive to be more eco-friendly in their homes. Homeowners are also interested in fully automating their houses taking great interest in smart home features and technology. 
At MHM LIVING, our goal is all about understanding our client's daily rituals and specific needs so that we can make a difference in their lives. Therefore, it is critical for us to always be on the forefront of sustainable and innovative practices.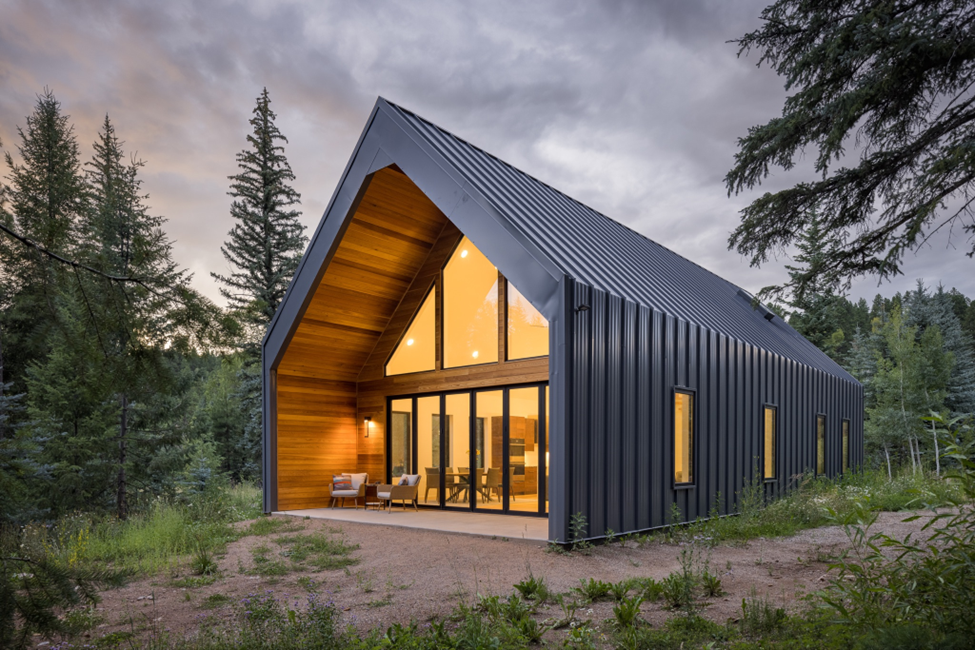 Adapting Design and Form to a Region
One of our most environment-friendly and smart projects to date is the house built in Colorado. This project best illustrates how we adapted the design and form to the site, region and the climate. We started with a plot of land on a river which was completely wild – we couldn't even walk around it due to the amount of brush. Once it was cleared, we installed a 4 ft wide culvert over the creek to be able to access the land. Next, we needed a water source but drilling a well was not an option since there isn't a public water system. We decided to build an infiltration gallery type well that is only 11 feet deep but provides plenty of fresh water that is naturally filtered. It also requires far less energy to pump it from 11′ than what a drilled well would have required and the bonus is that the water quality is superior. Other than a sediment filter and UV light it won't require any treatment. This leads to simplicity, less maintenance and provides longevity of the overall system.
The design of the house is Scandinavian with warm and modern touches. The building is a simple rectangle shape with a spacious interior and open layout but its complexity lies on how it was built. It has an 18 ft wide panoramic door system that can be completely opened to further connect to nature, allowing plenty of natural light to permeate the home.  All this openness required a special engineered support system. Multiple heavy duty gluelam structural beams are being used to manage the immense load. The roof framing trusses were specifically designed and built for this building. They are lighter, much faster to install and easier to work around with electrical wiring and also allows for a more insulated cavity.
This building requires less than half of energy to keep it warm at the peak of the winter. There is no air conditioning needed as the massive thermal break on the building envelope will prevent the building from overheating in the summer and outside temperatures cool off in the evenings. The walls are 2X6 which allow for thicker insulation plus the foundation walls are also insulated on both sides all the way down to the footings. All windows are casement windows and can be opened to allow air flow depending on wind direction. Overlooking the modern, spacious open layout are two electric skylights that open up and create a chimney effect to pull out warm air in the summer. These skylights automatically close in case of rain. There is also a large ceiling fan in the living space that will operate at a low speed which will move a significant amount of air. The reversible direction of the fan helps cool the air during the summer and plays an important role in circulating the warm air in the winter. The heating system is a closed loop super highly efficient hydronic system designed for this home. Contrary to in-slab hydronic systems, this will be installed above the slab and will have a reflective aluminum layer underneath that is far more responsive than a traditional system.
Smart Homes
In today's world, almost everyone has technology integrated into their homes. Based on clients' preferences we have incorporated elements such as voice activated showers, sensors that warm bathroom floors, close skylight windows when it rains, re-set the house temperature, and lights that turn on when a client arrives, just to name a few. Home integrated automation allows our clients to focus on what is important to them such as spending time with family or addressing work priorities while the technology remains in the background. A variety of smart home solutions are on the rise, adding convenience and comfort to our clients' homes. Indeed, who wouldn't want to live in a home with built-in security, smart lighting, or energy monitoring systems? The possibilities are endless. 
Non-Toxic Materials
Building and remodeling with non-toxic materials means reducing or eliminating any chemical hazards, making the home as clean and healthy as possible. VOC-free paints, non-toxic woods, and natural carpeting and insulation are great examples of alternative materials. 
Efficiency-Geared Products
In the sustainable design industry, we've seen an increased use of energy-efficient and water-efficient design elements and products like solar panels, water reclamation systems, and heat pump water heaters for example. Not only do efficient products greatly reduce monthly bills, but the lower energy or water use translates into a lower negative impact on the environment. There are solar-powered products that can charge or power almost anything, including lights, phones, laptops, and even refrigerators!
Reclaimed & Recycled Elements
Using recycled objects gives a second life to materials. For example, recycling a beautiful set of french doors or italian window mosaics provides character to a home. Interior designers love searching for antiques for clients, and we love building a space that has been designed to showcase a family heirloom. 
Statement Glass
Many of our clients want architectural elements that allow indoor and outdoor spaces to blend together. Large decorative windows, giant single-panes, sliding glass windows and doors — all of these glass elements help to almost entirely dissolve the separation between inside and outside. The benefits include increased natural lighting, a larger feel to the space, and a more tangible connection to nature. Particularly with large windows, it's important to choose energy-efficient ones. 
Living Roofs and Walls
Plants filter toxins out of the air and are shown to improve air quality. But it's not just about gardens and house plants anymore. In many parts of the world there are green roofs (made from a water-retaining layer and living grasses, flowers, and shrubs) and closer to home, we see living walls (a green wall system providing a healthy growing environment for plants on any interior wall surface). These walls purify and humidify the air and provide homeowners with a relaxed atmosphere.
All these practices along with meeting and exceeding our clients' preferences illustrate that while the smart home automation has become part of the fabric of our everyday lives, the sustainable design and build movement is growing on a global scale and is here to stay.  Not only do our clients reap the rewards, but best of all, our planet does as well and at MHM LIVING, we are 100% behind it.