Committed to Delivering a Luxury Experience.
Our company was established by Botond Laszlo, CR, CKBR, GCP who not only has a passion for architectural design and detail but also believes that clients deserve a bespoke remodeling experience. This philosophy is the backbone of our firm's culture and is embraced by our team and partners wholeheartedly.
Our core team is highly experienced, certified, and has worked with us for years. Each one brings a sense of pride to their role which is showcased throughout our projects. Our team structure grants us the ability to control the work zone thereby minimizing the impact to our clients' lives and allowing us to maintain a trusting relationship with each one of our clients.
MHM LIVING is a full service design and build firm based in Dallas, Texas.
About us
At MHM LIVING, we believe that everything starts and ends with our three core values: Personal, Integrity and Respect.
We take the time to build trustworthy relationships with our clients. It's personal.
We believe in acting with integrity by practicing a consistent and uncompromising adherence to strong moral and ethical values in every decision we make.
Everything we do is done with respect towards our team, partners, and clients.
At our core, we are committed to making a positive impact in people's lives. We achieve this by building authentic connections with our clients and partners, providing exceptional craftsmanship, and going above and beyond their expectations. What sets us apart is our unique approach, built on three pillars – Personal, Exceptional, and Craftsmanship. These values guide us in providing an unparalleled experience that is tailored to the individual needs and desires of each of our clients.
Every family and every individual functions and moves through spaces that are unique to them. It's our job to understand those nuances and transform them into seamless solutions that help life flow more freely. We also know the process of design build is extremely personal beyond the initial creative vision. Our process helps reduce stress and anxiety by making sure all clients know where their project stands on schedule, budgets, and decision-making at all times. It's a highly personal process and our commitment to exceptional service helps us forge long-term relationships. It's personal to us, because it's personal to you.
Exceptional is our standard and it drives all aspects of our projects. Our goal is for you to see exceptional in every detail, experience it in every interaction, and ultimately live in exceptional. At our core, we are driven by the confidence that we can produce exceptional results, and it is this mindset that sets us apart.
Most people would think this only applies to our build teams in the field, but we take pride in all aspects of craftsmanship. From our detailed drawings to relationship building, our craftsmanship is seen far beyond dovetail joints and level five finishes. We apply our same standards of exceptional and personal to our relationships with clients and trades, which means our build partners know we demand their best work. We hope you see it in our approach to your project and we hope you enjoy that level of craftsmanship for many, many years to come.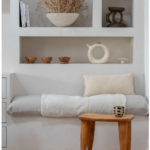 Urbanology Designs
We worked with MHM LIVING to remodel our guest house which included a full bathroom remodel, updates to the living, kitchen, dining and bedroom. As an interior design professional my standards are high for quality, work ethic, communication, and responsiveness. I can truly say that every one of these areas exceeded my expectations. The process was not only painless, but the plan was executed beautifully. After working with Botond and the entire MHM team I can in full confidence not only highly recommend them but, also plan on using them for future client projects. A heart felt thank you for a job well done MHM!
Emily T
It's been over a year since Botond and his group at Marvelous Home Makeovers have done our remodel and every single day I am thankful for it. When we started, they listened earnestly to what our lifestyle was like and made their designs appropriately. I thought I would just love our remodel because of how timeless our home would now look, but the real reason I love it is because of how much more our home fits our family and our lifestyle. Our kitchen colors are beautiful and the kitchen layout easily accommodates my family of four all at once. Our laundry rooms storage has increased ten fold but it looks like something out of a magazine, it's stunning. Botond and his group were professional from day one to finish and I would recommend his group to my family And friends any day.
Jill H.
Botond was a joy to work with during our remodel of our 20 year old kitchen/great room and bar social area. He orchestrated a perfectly executed plan with impeccable service and oversight with his skilled and professional team and created a beautiful living space that tied into the other areas of our home. Before selecting Botond for our project we interviewed three other contractors who fell short of Botond's creativity, keen eye for space and willingness to truly take the time to listen to our wants and needs. We were regulary visited, almost daily, by Botond who took great care to make sure things were moving along according to plan. Our project was completed as promised on time even in the midst of the Covid season. Most importantly, our remodel was a stress free experience which often is not the case. Botond allowed us to feel confident that every aspect of our plan was covered with constant attentive communication which is truly priceless. Peace of mind is what MHM Living provides its clients and we most definitely will use their services again.
Frank
We had the opportunity to use MHM this year on a kitchen and 3 bathroom renovation. GREAT experience!!! From start to finish, we had wonderful service and communication. I think that is extremely important. We discussed the scope of the project, what we wanted and proposals were delivered. Design came second. This is not our strength. I appreciated some pushback on my ideas because now I can see the end result The best part of all is we did not start until all supplies were in house and we finished on time! They took extraordinary care of my furniture and belongings and when the project was done, it was placed back exactly as it was when we started. Everything that was promised was delivered. Renovations are not fun. your house is disrupted, but I could not have had a better experience.
Jay
Now that it's in final assembly it's sinking in. The house is unrecognizable. Can't believe it's the same place. I can't say we're ready to move back because that place doesn't exist anymore. It feels more like we're moving in. We are beyond happy.
J. G.
MHM LIVING truly is an exceptional company led by Botond Laszlo with his outstanding crew and talented design team. They will make your dreams come true and beyond with quality and personal attention. We have used many contractors throughout the years. MHM LIVING is among the best - certainly the best we've ever used. We would never hesitate to recommend - and would definitely use them again.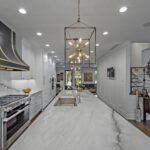 Jill
We used MHM LIVING for a major remodel which encompassed the kitchen, entire downstairs and additionally involved changing the floor plan and relocating the laundry room from downstairs to upstairs. MHM was extremely professional at all times and provided invaluable guidance without which we could not have completed the project. We highly recommend and definitely plan on using them again for our next project.
Glenn
I have photographed many of Botond Laszlo's projects and every time it has been an absolute pleasure. He is easy to communicate with, responds to any questions promptly, and has a very laid back and relaxed air about him. His work is of a very high quality, always a pleasure to shoot and he's very easy to work with. I wouldn't hesitate to recommend him to anyone in the market for a remodel or other contracting job!
Shylo Preston Design
Having worked in the remodeling world for 17 years, I know a GREAT contractor when I meet one. Botond is intelligent, thoughtful and always does what is right for his clients. He is knowledgeable and creative and he would be the first person to come to mind if I needed a project done in my own home.
Debbie
We did a major master bath remodel. While we had a good idea of what we wanted, Botond took a great deal of time to help and counsel us through the final planning and preparation stages. Then his team came in and did a phenomenal job implementing our plans. All contractors should be such a pleasure to work with!
House of Refined Design
Botond Laszlo of MHM Living has named the company accurately. You will be delighted with the marvelous results of this design/build firm. Botond is respectful of the client's timelines and budget. He engineers quality into all that he builds. He has great crews that are diligent and capable. I would highly recommend this builder to the most discriminating homeowner.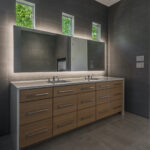 Delores
We had our kitchen remodeled March 2016. Everyone was professional and very knowledgeable. They worked well together. Botond had a lot of great ideas. Botond said that it would take three weeks and they finished at exactly three weeks. They repaired the cabinet where the door had fallen off because of a crack near the hinge. The cabinets were painted. The countertops were removed. We had decided to replace the countertops with black honed soapstone. The oven, stovetop, microwave and dishwasher was removed and replaced with new appliances. The sink was removed from the top and under mounted. The wallpaper was removed and the wall painted. The lights were replaced. The back splash was removed and replaced. The area where the microwave and oven was replaced was framed and painted white. I love my remodeled kitchen. Next time we remodel we are using MHM Living.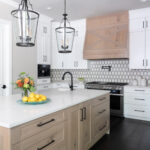 Jeffrey
We used MHM Living to reconfigure our entryway and expand our laundry room's functional space...they came up with a brilliant solution and then they also installed our new outdoor TV and built in wine cooler. All of the work is flawless and the crew was so nice and respectful...an absolute pleasure to work with!! I recommend them for any of your remodeling needs!!!
Christopher
We were very happy with the work done by the team from MHM Living. They brought the right specialists at the right time. Incredibly professional company with very skilled staff. We especially liked it that once they were on the job they stayed with it. None of this come for a day or 2 and then go off to another site. They came when they said they were going to, did the work they said they were going to do and left the house tidy and livable throughout. They worked clean. That is huge for us. The work involved undoing some unsatisfactory work done by a previous company, painting walls, completely redoing (and bringing up to code) a staircase, hanging lights, hanging pictures, changing electrical fittings, removing carpet and replacing with wood flooring. All that and we could still live in the house while it was happening.. Amazing.
JF
We chose MHM Living based on a recommendation from our neighbors who had their bathroom remodeled which was the project we had in mind. Our experience with Botond and his crew exceeded our expectations. They finished on time, on budget and the quality of the work was exceptional. Their were no hidden surprises and we also found all the workers to be courteous and professional. We plan on using MHM for our guest bathroom and kitchen remodel as well.
Laura
Botond and his team were amazing to work with from start to finish. Really listened to our ideas and wishes for our new bathroom and made our dreams a reality. We love our new bathroom, I feel like I'm living in a hotel. The attention to detail and craftsmanship is perfect. Botond and his team were such professionals, we didn't have to worry or stress about anything. If you want the best you need MHM Living!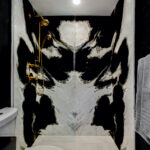 April
Over the years I had the privilege of watching the MHM Living team complete many projects within the industry as well as receive CoTY awards for those projects. When it came time to remodel my guest bath I knew Botond Laszlo and his team had the attention to detail necessary to execute the level of perfection someone from within the interior design field would expect. From discussing with Botond design conceptualization and a translation plan into a practical and functional everyday use guest bathroom, project management, and execution the entire team was a pleasure to collaborate with. MHM Living helped to turn a narrow "NY railway" style guest bathroom into an open and spacious bathroom that features linear shower drains for a more expansive feel and floating cabinets with mirrors that extend to the full ceiling height to enlarge the space. As an industry insider, I highly recommend Botond, Owner of MHM Living, and his team.
Chrissy
We truly enjoyed working with MHM Living. Our house was originally built in the 1960s. Botond and his crew were particularly attentive to protecting areas of the home they were not working in, and in making design decisions that complemented the older character of our home. We completely remodeled a large master bathroom and 2 additional full bathrooms. Botond was professional and fully engaged in every aspect of the project. He helped us with design of the space and selection of materials, and supervised all construction. He is a great communicator and was readily available to talk by phone or email. All of the work crews were professional and respectful. The work is high quality and was completed in a timely fashion. We had a great experience and would definitely call MHM again!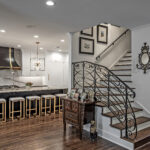 SH
Botond Laszlo has been really great in helping us completely update our house in the past 2 years, including to date - 3 full bathrooms and kitchen. Extremely responsive to emails (which is my preferred communication method) and has a great design sense too, coupled with a knowledge of what it means to execute on that design and the associated costs. The finish is really good too, never objecting to come by and finish up on things even after the final invoice is paid. His fees are reasonable, comparable with other contractors, and worth the service quality.
Marieke
We bought a 1970-built ranch home and immediately set out to renovate the interior to a more modern standard. We hired MHM Living to do the full interior renovation and were very happy with the results. Initially, we set out to fully renovate the kitchen and master bath and do cosmetic updates throughout the rest of the home. Eventually, all our bathrooms were renovated, as well. Botond was professional, exacting in the quality of the work that was done, and responsive to the needs and questions we had throughout the process. His crew was unobtrusive, timely, and professional. Botond and his company came highly recommended from two friends who used him, and we also had a great experience with him. He stands by his work as he even came back to correct an issue six months later that came about when the weather changed! I would recommend him to anyone who desires a quality renovation. "You get what you pay for", is an adage often heard, and it is applicable to MHM. His work is not cheap, but you will be very happy with the results!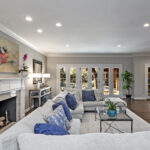 Debby
We were looking for a contractor to remodel our 35 year old home. We were so fortunate to find MHM. Botand is a wonderful contractor and guided us the process of a whole house remodel. We could not be happier with the results. I can't imagine that there is a more talented contractor to be found. He listened to our ideas and needs and far exceeded our expectations.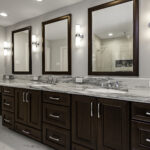 Ceci
Botond and MHM gave me the kitchen I'd dreamed of for years! I was very nervous about my project but my concerns were quickly allayed when I realized how professional, knowledgeable and organized Botond is. He has an amazing attention to detail and always carries through as he promises. He imparts this demeanor to his crews who are likewise personable, respectful and efficient. I have already planned to remodel a bathroom with MHM and recommend Botond to my friends without reservation.
Mar
Botond and his crew did a major remodel of our kitchen, living room, master bedroom and all the floors on our first floor. We have had several remodelers do work on our house, but none have been more professional and competent than MHM. And the results were amazing! My wife and I could not be happier! Professional, courteous, neat, on time, on schedule, world class results. That's what we got from MHM.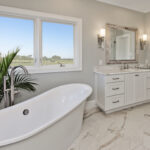 Richard
MHM Living is not just a remodeler, they are the BEST in the Dallas Metroplex. We are so happy with the bathroom remodel that they just completed, that we are planning a kitchen remodel as well. The attention to detail, the constant communication, the high quality workmanship, and the scheduling of every phase of the project convinced us that MHM is the BEST. They even fixed problems that we didn't realize we had. Every employee and every contractor is carefully chosen to provide the highest quality product. We HIGHLY recommend them. They even finished our project a week ahead of schedule!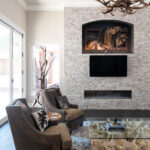 Ishimizu
Our home had reached the twenty year mark and was in need of an upgrade. I was told to go with a contractor associated with NARI, so when I searched, one of the companies I found was MHM Living. We contacted Botond and arranged for a consultation at our home. The first meeting was not just a walk through. Botond began by sitting with us and learning more about us. The thing he said that really struck me was that in order for both parties to be happy with the end result, we would need to build a relationship. And he was so right. We hired Botond and broke the work into two phases. The smallest project was the upstairs. They completed the work quickly and with great attention to detail. We then moved upstairs and the work began in the lower floor. Phase two was 6 weeks, since the renovation was large and touched every room on the lower level. Living in construction is never "fun" but Botond and his crew made it as easy as possible. Now that we are done and moved back into the downstairs, it was so worth it. Botond lived up to everything he promised and more. The work is beautiful and he created a living space exactly as we had envisioned. He got to know us and listened to us, thereby creating the perfect home for us. The crew was always professional, always cleaned up at the end of each day, and were very respectful of the fact that their "canvas" was still our living space throughout the project. If you are looking for a contractor who is a forward thinker, professional, honest, and easy to work with, you should talk with Botond. As promised, we built a relationship and all parties are very pleased with the renovation results.
Heller
I am SO grateful I was referred to Botond at MHM Living. His work is AMAZING – but the positive experience wasn't just from the finished product. He was referred highly to us from friends who had more work done that we did and they raved about the experience – at first we really didn't understand what they meant by the experience vs. the finished product. We got one slightly cheaper bid but even during the initial consultation, Botond threw out so many more creative solutions and identified so many more considerations for the job and was so committed to listening to all our input than the other remodeler that we had to go with him. During the project Botond was so communicative we knew exactly what was going on at all phases and he would give us as much or as little information as we wanted, practically daily through the project. It was very cool to deal with one construction team through the process – they were very considerate and friendly. You have to sit down across from Botond to really understand what I'm saying, but the finished product is much better than we initially envisioned and the process of working with the construction guys is first class.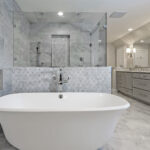 Miller
I finally found white glove, concierge level home remodeling. My wife and I wanted to rework the kitchen and master bath of our recently purchased home in Highland Park. We were at a party at a friend's house and loved his kitchen, so we asked him about it and he referred us to MHM Living. From the moment we met him, the owner came across as very attentive to our specific needs and wants and he gave us tons of information about potential ways to get what we wanted. During the building phase, we had the same crew the whole time who were friendly and took pains not to leave a mess. We had frequent communications with the owner and the construction team so we always knew exactly where the project stood. The final work really is gorgeous. I have referred MHM Living to a few other people, and I know from one who used him that he also loved MHM Living's work.

Tarek & Rachel
Thorough job, worthy of a luxury custom house builder. Botond and his team were intimately familiar with all aspects of the project and nothing escaped the careful scrutiny and attention it deserved."
Diane
Botond was very knowledgable in all aspects of the makeover and always took the time to listen to my ideas, take my phone calls and read my texts. Botond and his crew were very respectful and professional. Any issue I had with the finished product was quickly corrected and I know I will call him again for more renovations.

Anton
"We are working through a complete remodel of our home and on the recommendation of a friend, hired MHM Living to do the master bath. We were absolutely impressed with the efficiency and attention to detail that Botond and his team brought to the project. The bathroom they delivered to us has surpassed all our expectations. I would not hesitate to recommend their work to my closest friends."